Can you believe Saint Patrick's Day is just around the corner? Growing up all I really remember about St. Patrick's Day was to wear green so I wasn't pinched at school. I don't remember making any of the fun, creative crafts I've seen floating around Pinterest the past few weeks. So, I thought I would share with you 17 of my favorite St. Patrick's Day Crafts.
1) The Honorable Mention Preschool Blog shares these cute and simple Paper 4-Leaf Clovers are so cute!!
2) Try this easy Paper Plate Leprechaun by Busy Bee Kids Crafts.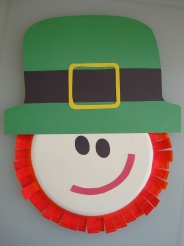 3) Put those empty Toilet Paper Rolls to use by making this Leprechaun by Moments of Mommyhood.
4) Thanks to No Time for Flash Cards, I can't wait to recycle our empty water bottles into these Shamrock Shakers/Discovery Bottles!!!
5) I can't wait to try this Handprint Leprechaun, by Ramblings of a Crazy Woman, with my Littles. I'm a sucker for handprints!!
6) These St. Patty's Day Rubbermaid Hats, from Canadian Living, would be super cute for the kiddos!
7) Children's Learning Activities shows how to make this Shamrock Potato print.
8) How cute is this Leprechaun paper plate mask by Learning and Teaching Preschoolers?!?!?!?!
9) Wouldn't a Treasure Hunt for the gold at the end of the rainbow be so fun? Spoonful by Disney offers FREE Treasure Hunt Templates!
10) The Happy Home Fairy shares some cute ideas on How to Catch a Leprechaun!
11) Make this quick and simple pot of gold at the end of the rainbow. SO CUTE!!!!
12) And how could you not make this Scented Shamrock from Education.com?
13) Check out No Time For Flash Cards Rainbow Crafts for Kids!! Some really cute ideas on here!!
14) Handmade and Craft shares 15 St. Patrick's Day Wreaths you can make at home!
15) Add a little Science to your St. Patrick's Day activities by making these Shamrock Crystals by Housing a Forest.
16) Want some St. Patrick's Day Crafts? Check out these 40+ St. Patrick's Day Crafts shared by Dollar Store Crafts.
17) I Heart Naptime shares the 50 Best Saint Patrick's Day Crafts and Recipes.
Didn't find what you want here? Check out my Holidays: St Pattys Day board on Pinterest where I'm continually pinning!!!
What's your favorite way to celebrate St. Patrick's Day?
Sharing with these parties: What Joy is Mine, The Modest Mom Blog, Far Above Rubies, Teaching What Is Good, Educating Laytons, Raising Mighty Arrows, Hearts for Home Blog Hop, Holy Spirit Led Homeschooling, Home Grown Learners, Weird Unsocialized Homeschoolers, Hammock Tracks – It's A Wrap, Living Life Intentionally – TGIF
Google+